Over the past several years the Friends of Greenview have been restoring the meadow at the nature area. Since 1990 more than 700 wildflower seedlings and prairie grasses have been planted by volunteers. Annual controlled burns and other methods are being used to eradicate invasive species.
Thanks to those efforts, the meadow is now a vibrant habitat featuring many native wildflowers such as Black Eye Susan, Primrose, Asters, Coneflower and Ironweed, and attracts a wide range birds and insects, including many species of butterflies.
See Pollinator Garden page for more information about plants at the nature area.
As part of restoration efforts the meadows have been planted with four native tallgrass prairie species: Big Bluestem, Indiangrass, Little Bluestem and switchgrass.
Grasses are the backbone of a prairie and are a refuge for butterflies, grasshoppers, birds, reptiles, and many others that call it home.
Butterflies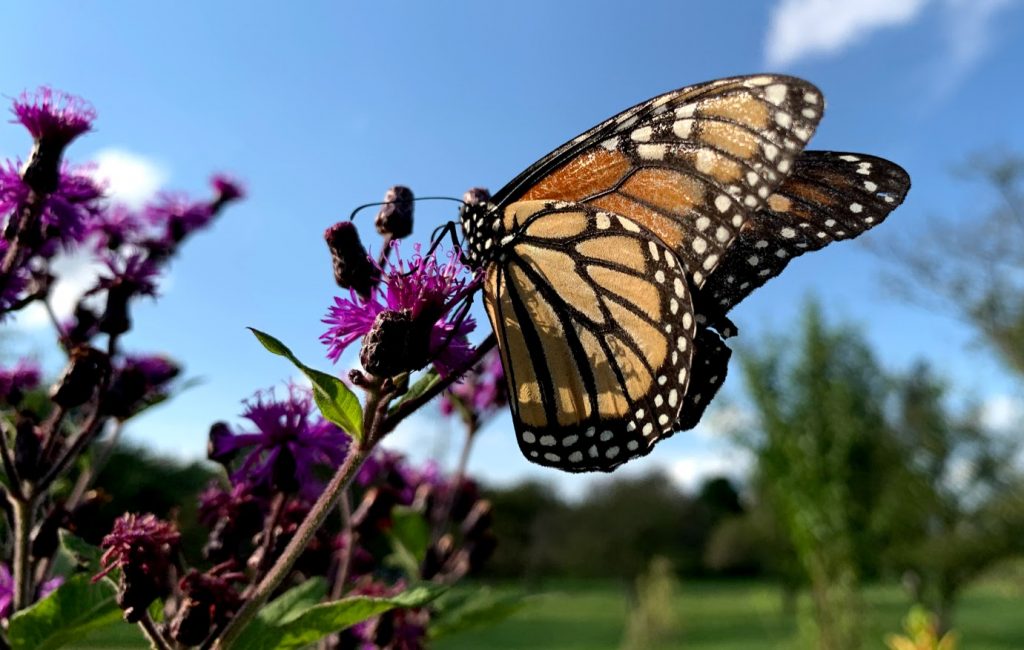 More than 50 species of butterflies that visit Greenview. Commonly found butterfly species at Greenview are listed below. Please watch for these and other butterflies as you walk through the meadows and the Pollinator Garden.
| | |
| --- | --- |
| Cabbage White | Tawny-edged Skipper |
| Clouded Sulphur | Northern Broken Dash |
| Common Wood Nymph | Eastern Tailed-Blue |
| Peck's Skipper | European Skipper |
| Little Wood Satyr | Orange Sulphur |
| Pearl Crescent | Delaware Skipper |
| Monarch | Wild Indigo Duskywing |
| Common Ringlet | Baltimore |
| Least Skipper | Great Spangled Frit. |
| Checkered Skipper | |
Butterfly Study
Over the past 20 years, Professor John Swales and other members of the North American Butterfly Association have used the meadow areas at Greenview for their annual butterfly counts. There are approximately 55 species of butterflies observed at Greenview.
The annual studies report that butterfly populations observed from year to year at Greenview are fairly stable. However, continued meadow management is important in order to stop the encroachment of woody invasives. The 2021 Season Report can be viewed below.
Greenview Butterfly Report – 2021 Season
Professor John M. Swales accompanied by other volunteers made twenty-tree visits to Greenview in 2021, starting on April 27 and finishing on October 19.
Professor Swales prepared the following report:
Thirty-two different species were found, this being a bit below average and largely brought about by the absence of immigrant species (excepting the Monarch), as elsewhere in southern Michigan. The total number of individuals was just under 1700, which is a little above average. Notable changes were declines in the number of Tawny-edged and European Skippers, but offset by increases in Northern Broken Dash and Delaware Skippers. No Mourning Cloaks or Eastern Commas were recorded, principally because the woods before leaf-out were not searched for these over-wintering species. On the other hand, two unexpected species, Bronze Copper and Zabulon Skipper, managed to re-appear in small numbers.
On the whole, therefore, the butterfly populations appear to be largely stable. This is largely due to the efforts made to maintain the flowering meadows via prescribed burns and the removal of invasives.
The details follow:
| | | | |
| --- | --- | --- | --- |
| Species | total | dates | maximum |
| Cabbage White | 357 | 4/27 – 10/19 | 39 on 9/12 |
| Clouded Sulphur | 290 | 5/2 – 10/10 | 73 on 9/2 |
| Common Wood Nymph | 198 | 7/1 – 9/2 | 34 on 7/24 |
| Peck's Skipper | 145 | 5/25 – 9/2 | 35 on 8/15 |
| Little Wood Satyr | 143 | 5/26 – 7/17 | 35 on 8/14 |
| Pearl Crescent | 92 | 5/20 to 9/16 | 22 on 8/26 |
| Monarch | 77 | 5/26 – 10/10 | 25 on 7/17 |
| Common Ringlet | 41 | 5/26 to 8/24 | 16 on 6/16 |
| Least Skipper | 41 | 6/6 – 9/3 | 11 on 6/24 |
| Checkered Skipper | 39 | 5/16 – 10/10 | 5 on 8/24 |
| Tawny-edged Skipper | 34 | 5/26 to 8/24 | 15 on 8/14 |
| Northern Broken Dash | 32 | 6/20 – 7/17 | 19 on 7/1 |
| Eastern Tailed-Blue | 30 | 6/24 – 10/19 | 7 on 7/17 |
| European Skipper | 29 | 6/6 – 7/1 | 9 on 6/13 |
| Orange Sulphur | 27 | 7/1 – 10/19 | 15 on 10/10 |
| Delaware Skipper | 24 | 7/1 to 7/24 | 19 on 7/1 |
| Wild Indigo Duskywing | 19 | 5/26 to 8/26 | 13 on 7/7 |
| Baltimore | 18 | 6/6 – 7/1 | 6 on 6/24 |
| Great Spangled Frit. | 11 | 7/1 to 8/14 | 4 on 7/1 |
| Tiger Swallowtail | 8 | 5/2 to 8/8 | 3 on 6/6 |
| Silver-spotted Skipper | 7 | 5/20 to 9/26 | 3 on 5/20 |
| Summer Azure | 6 | 6/6 – 7/24 | 2 on 6/6 |
| Little Glassywing | 5 | 6/20 – 7/17 | singles |
| American Lady | 4 | 5/2 – 6/1 | 2 on 5/2 |
| Black Swallowtail | 3 | 6/10 – 6/24 | singles |
| Zabulon Skipper | 3 | 5/26 – 8/8 | 2 on 8/8 |
| Hobomok Skipper | 3 | 5/26 | |
| Banded Hairstreak | 2 | 7/1 | |
| Bronze Copper | 2 | 6/6 | |
| Red Admiral | 1 | 8/14 | |
| Northern pearly Eye | 1 | 7/24 | |
| Eastern Dun Skipper | 1 | 8/14 | |
Butterfly count statistics from 2021 season