Welcome to Friends of Greenview and Pioneer Nature Area. We are neighbors joining together to care for the wonderful park and nature area along South 7th Street and Scio Church roads in Ann Arbor, Michigan.
Click here to read more about our organization and how you can donate to support our activities. For latest updates visit us on:
What's Happening Now
Fall is here and the Greenview Nature Area and Pioneer Woods is transitioning to brilliant autumn colors. Most of the late summer blooming wildflowers, such as goldenrods are starting to fade, but purple and white asters, orange hued grasses, and various seedheads stand out in the landscape.
Site Walk with Bob Grese
In late September the Friends of Greenview board members conducted an informative site walk with Bob Grese, retired Director of Matthaei Botanical Gardens and Nichols Arboretum. Bob brings a wealth of knowledge and practical experience and the Friends asked for his input on a variety of meadow or woodland management challenges. Bob suggested strategies for controlling invasives and aggressive tall grasses, and weeds in the newly established pollinator garden. Bob also recommended planting options for the wet, heavy-clay area of the lower meadow.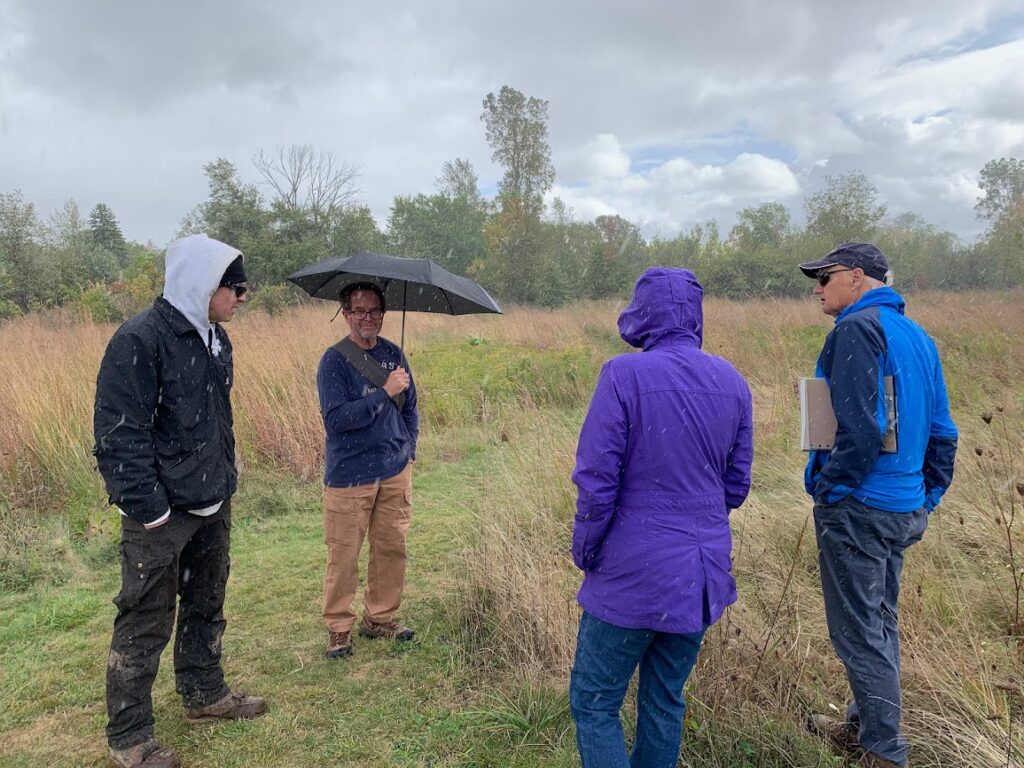 Butterfly and Wildflower Tour
Friends of Greenview and Pioneer Nature Area, in conjunction with Ann Arbor Farm & Garden, conducted a Butterfly/Wildflower tour on July 16. Over the years, Ann Arbor Farm & Garden has generously provided grants to Friends of Greenview and Pioneer Nature Area for meadow restoration and wildflower enhancement.
Friends of Greenview Stewardship Activities
Signs of the active management by Friends of Greenview/Pioneer are underway in the park. Stewardship activities are made possible by the generous support of our volunteers and donors.
Water management
One of this year's goals is to improve drainage in the many areas of the park that develop standing water. In June the area north of the community garden was regraded to eliminate trapped water collecting in low areas. The redirected water will be used to make a rain garden northeast of the gardens. Grass seed and straw mulch has been added to the disturbed areas.
In July, park steward Dave constructed culverts and made trail improvements near the Glen Leven park entrance.
Goatscaping
This May, The Friends hired goats to help control invasive plants at the park. Our goatscaping herd worked a weedy section of the park that we have designated high priority for restoration. Five Boer goats browsed an area just east of the Project Grow Community Garden. The goats were confined by a temporary fence during their week-long stay, May 23-30.
Goatscaping is an ecologically beneficial and chemical free method for controlling weeds and restoring healthy landscapes. Goats love eating new shoots and leaves of problem plants such as buckthorn, honeysuckle, and poison ivy. This helps to weaken and eliminate these invasive plants and clear overgrown areas.

Planting of Serviceberries
On April 29 in commemoration of Arbor Day, Friends in partnership with Pioneer High School Sustainability Club planted six Amalanchier serviceberry trees. The trees, planted along South Seventh, north of Scio Church Rd, will add seasonal interest to the park with spring blooms, summer berries and fall color.
Controlled burn
A controlled burn in March left blackened patches on parts of the meadow. Different sections of the meadow are burned on alternating years to encourage native species, enrich the soil, remove dead thatch and supress invasives. Each year we have seen greater concentrations of wildflowers and native grasses as a result of these burns and the no-mow practices adopted by Friends.
In just a few weeks the burnt sections of the meadow turned green and will be filled with grasses and colorful wildflowers. Watch the meadows bloom and observe butterflies and other insects this summer as you enjoy your walks in the park.