Welcome! Friends of Greenview and Pioneer Nature Area is a group of neighbors who have joined together to care for the Greenview and Pioneer Woods Nature Area, a wonderful park and natural open space along South 7th Street and Scio Church Road in Ann Arbor, Michigan.
Click here to read more about our organization and how you can donate to support our activities. For latest updates visit us on:
Annual Fundraiser
The Friends of Greenview and Pioneer Woods Nature Area is conducting its annual fundraiser. Your donations will support our 2024 stewardship activities at Greenview, including prescribed burns, tree and wildflower planting, and trail maintenance. Below, you can read more about what Friends of Greenview accomplished in 2023 with your help. Please help us protect and enhance our backyard treasure! Your financial contribution will be greatly appreciated, and it is tax-deductible.
The Friends of Greenview and Pioneer Nature Area is a 501(c)(3).
Stay in touch and join Friends of Greenview by subscribing to our newsletter. Membership in our organization is free. You will receive notifications when we organize special events and workdays to perform trail maintenance, spring cleanup and other projects.
What's Happening Now
During the late autumn and winter months, the landscape in Greenview and Pioneer Woods Nature Area is full of seasonal interest. Visitors can enjoy walks or cross-country skiing along many of the park's trails.
As the landscape's color become muted during the winter months, prairie grasses, distinctive seed heads of native flowers, berries and twigs provide a visual delight and a gentle touch of color. Additionally, they offer a readily available source of food and shelter for birds, insects, and other wildlife.
Greenview Butterfly Report for 2023
Over the past 20 years, Professor John Swales and other members of the North American Butterfly Association have used the meadow areas at Greenview for their annual butterfly counts. There are approximately 55 species of butterflies observed at Greenview. The Butterfly Survey Report for 2023 can be viewed on this page.
Stewardship Activities / 2023
Throughout 2023 the Friends of Greenview and Pioneer Nature Area has been actively involved in various stewardship activities to restore and enhance the natural features and beauty of this wonderful community open space. The generous donations and grants we received last year enabled us to buy native seeds and plants that we installed throughout the Greenview site. The funds also allowed us to engage a professional consultant to advise us, conduct restoration projects, and guide our overall strategy to improve the nature area. Friends of Greenview also organized community work days and educational events
Installation of New Bridges / September 10, 2023
Thanks to the Boy Scouts–Huron Trails District, Greenview now has two new bridges on the paths in the wooded areas south of the Greenview pond.
The Boy Scouts constructed the bridges offsite and installed them during a work day in September. They removed old bridges and improved existing culverts. They installed the new bridges and mulched the paths near the new construction. We extend our heartfelt gratitude to the Boy Scouts for their outstanding contributions!
Butterfly and Wildflower Tour / August 5, 2023
The Butterfly and Wildflower Tour took place in August and was a wonderful success. We sighted Monarchs, Black Swallowtails, Tiger Swallowtails, Pearl Crescents, Common Wood Nymphs, and other species of butterflies and skippers. Special appreciation goes to our knowledgeable guides, Prof. John Swales, Marcy Breslow, and Judy Lobato, as well as to Ann Arbor Farm & Garden for its support.
Volunteer Work Hour / June 3, 2023
The Friends of Greenview and Pioneer Nature Area organized a volunteer work hour on Saturday, June 3, 2023. Despite the hot weather, volunteers spread over 6 yards of woodchips on the paths near the pond. These path improvements will help with water drainage and eliminate muddy areas. Thank you to all the volunteers for donating their time and hard work in making a positive impact on our nature area.
Prescribed burn / May 2023
We used donations we received last year to hire an environmental consultant to conduct a prescribed burn at Greenview in May. This year the burn was concentrated in areas west of the main path. Controlled burns are a crucial part of our conservation efforts. Carefully planned and controlled fire helps us manage vegetation in a way that discourages weeds but encourages desirable plants, promoting the overall well-being of the ecosystem.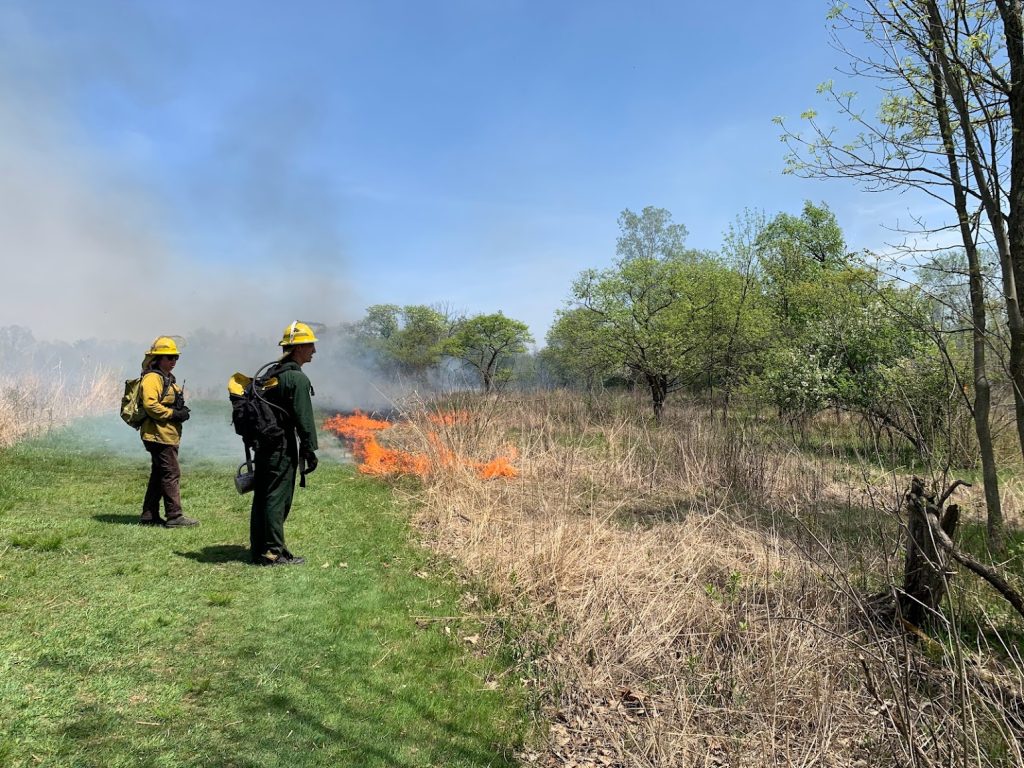 Ann Arbor Farm & Garden Awards Grant to FOG / March 2023
This March, Friends of Greenview and Pioneer Nature Area received a $3,700 grant from Ann Arbor Farm & Garden. The grant will be used to support an ecological meadow burn and to offset the costs of wildflower plugs and seeds for the new Pollinator Garden. We greatly appreciate this generous contribution towards improving the Greenview Nature Area. You can read more on A2 G& G website: https://www.annarborfarmandgarden.org/giving.html
Volunteer Work Hour / February 11, 2023
Friends of Greenview and Pioneer Nature Area organized a volunteer work hour on Saturday, February 11, 2023. The event focused on tackling trail maintenance was a tremendous success, with an excellent turnout from dedicated volunteers. Volunteers spread more than 6 yards of wood chips on trails near the pond and helped build culverts. These improvements will facilitate water drainage and will help eliminate muddy areas. We thank our enthusiastic volunteers for dedicating their time and tools and energy to these projects, and for their participation in building the Greenview community.
Pollinator Garden Expansion
Friends of Greenview began developing a new garden east of the Project Grow site that features plants friendly to pollinating insects. With the generous support of our donors last year, we successfully expanded the Pollinator Garden to a quarter acre. This year, contributions will be directed towards acquiring wildflower plugs, seeds, and ensuring the ongoing maintenance of the expanded site.
Work on the Pollinator Garden continued throughout the season. We planted more than 500 native flower and grass plugs. We also divided, replanted and seeded several more varieties. This fall we planted native shrubs. We added new mulch paths and kept weeds in check.
Path improvements, maintenance and water management
We continue to improve trails by addressing various maintenance needs. This includes clearing and making repairs after storm damage, as well as improving drainage in the areas that tend to develop standing water. Friends of Greenview cleared tree roots from trails and spread mulch to improve trail surfaces and ensure safe and accessible pathways through the nature area. We also rebuilt and replaced bridges as part of our ongoing trail improvement effort.
New Trail!
This year Park Steward Dave opened a new path in the Pioneer Woods. It runs southwest from the corner of Stadium Boulevard and South Seventh Street.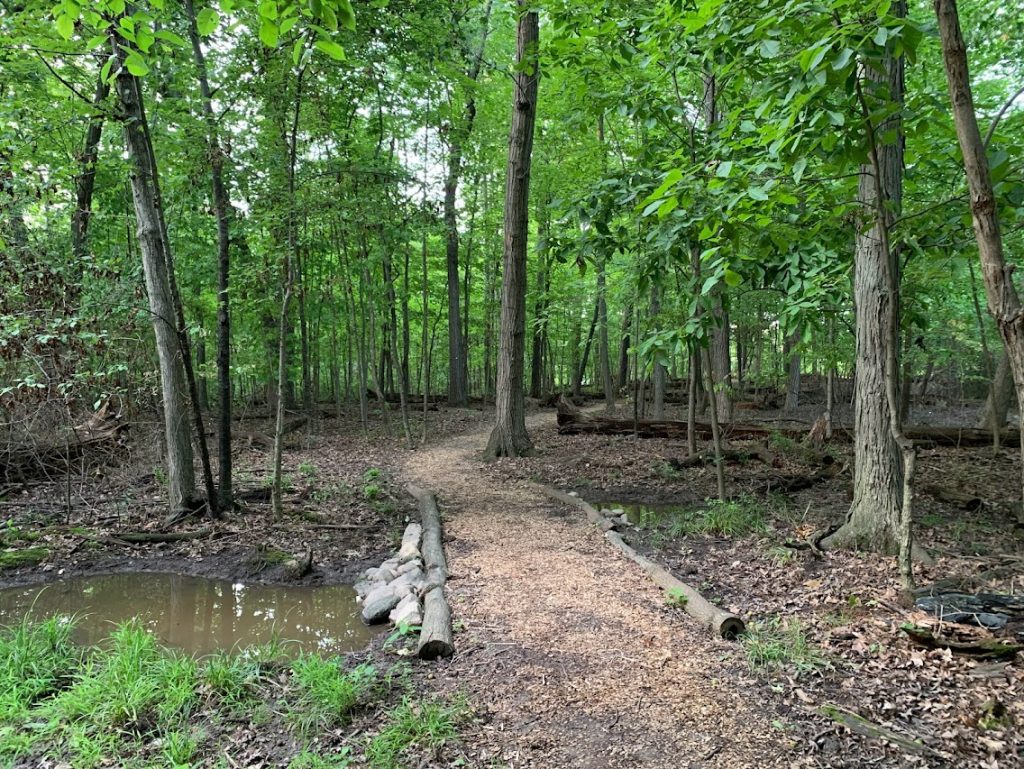 Removal of Invasives
Friends of Greenview continues to clear invasive shrubs, such as buckthorn and honeysuckle. Park Steward Dave and his interns have been working tirelessly to remove invasives in many parts of the nature area, with a particular focus on areas near park entrances and along the trails. Another area of focus for plant removal this year was the area surrounding the Greenview pond, which had become overgrown with invasive buckthorn and other weedy shrubs
Looking Back at 2022
Click here to learn more about Friends of Greenview and Pioneer Nature Area accomplishments in 2022.